Current News
SPECIAL ANNOUNCEMENT - 2/24/21
Kid's Haven remains open at this time. We want to ensure we have our qualified staff here to serve the children during this time. Please, feel free to reach out to me with any questions or concerns. Stay safe and healthy!
Coronavirus Update
TEACHING THANKFULNESS
Helping our kids find gratitude and blessings in our everyday lives is so important to their emotional well being. Below are some fun crafts to reinforce being satisfied and practicing gratitude.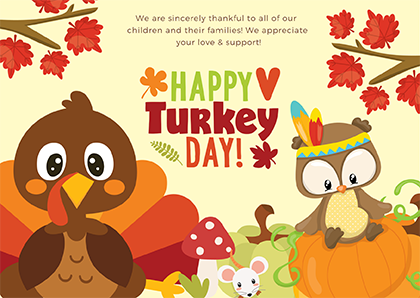 Tree of Blessings: Gather some branches from your yard/outside. Everyday, have your child(ren) write down on a construction paper leaf what they are thankful for and hang them with string from the tree. On Thanksgiving Day, read out each leaf.
Thank You ABC's: Ask your child(ren) to name something they are grateful for starting with each letter of the alphabet. Take turns and give them 5 seconds. This can be an especially fun car game.
Gratitude Jar: Decorate a mason jar with your kids. Each day before bed, write notes about what made them grateful that day. On Thanksgiving re-read all of your notes and have fun remembering everything your family is thankful for during the month.
We are sincerely thankful to all of our children and their families! We appreciate your love & support!
Please see our special Thanksgiving booklet to download with lots of other Thanksgiving Counting, Coloring, & Cutting activities.
Pumpkin Coloring Counting
Creative Curriculum
ABC Mouse
We are excited to announce our computer class through ABC Mouse will start back up on 9/14. Computer class will remain in session as long as school does. We will be handing out your child's ABC Mouse enrollment number if you would like to access it at home also. You have to redeem your child's code on a desktop computer. You will go to www.kidorangetech.com/parents. You are welcome to view a parent getting started video below:
Reminders
Thanksgiving Holiday Hours: Wednesday, Nov 24, 5:30 AM-6:00 PM. Thursday, Nov 25, Closed for Thanksgiving. Friday, Nov 26, 7:00 AM-5:30 PM.
Our tuition rates increase on 11/11/21. Please stop in the office or visit www.kidshaven.net for our new rate sheet.
Upcoming Events
November 1: Contribute toy animal(s) or habitat materials for our classroom pet-supply store.
November 7 - 13: Young Readers Week
November 8: Allow kids to feed pets at home or help feed a neighbor's pet. Discuss why different pets prefer specific food(s).
November 11: Jim Madsen Music Show
November 11: Veteran's Day
November 13: World Kindness Day
November 18: Millennium Dance Company
November 23: Pizza, PJ, Movie Day
November 25: Happy Thanksgiving
November 26: Join Us to Celebrate the end of our Pet Study
November 30: National Day of Giving